Colorado Springs Mobile Shredding
Mobile shredding in Colorado Springs also called on-site shredding, is when a shredding truck comes out to your office or home. The trucks are totally self-contained and can run without the need for an outside power source. They will shred in no time what it would take you days to shred with a normal desk shredder. You get to watch the process from start to shreds.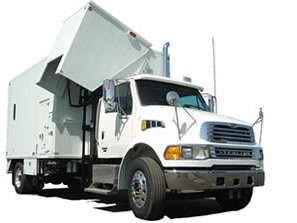 If you want to watch your documents being shredded or have negotiable instruments then a mobile shredding option is the best service for you. Witnessing the shredding is a requirement when dealing with negotiable instruments like stocks and un-cashed checks.
Shredding trucks destroy up to 6,000 lbs an hour so many jobs only take a few minutes. In moments they can perform the typical business shredding purge. They can shred anything from a box to warehouses full of documents.
For ongoing, scheduled service, locked cabinets are provided to your business for free. You simply collect any papers. The driver comes by on a regular schedule and shreds your private business information in Colorado Springs, preventing it from falling into the wrong hands.
How Mobile Shredding Works in CO Springs
Save up and gather the papers you need destroyed. No need for sorting through staples or paperclips.
A secure truck comes to your location and your papers are shredded into a secure compartment of the truck. You can witness the whole process.
A Certificate of Destruction is presented for everything completed.
The shredded bits are compacted, pulped down, and recycled into tissue.
Get Free Quotes on Mobile Shredding Services in Colorado Springs
On-site shredding services will send a truck equipped with an industrial shredder to your location and shred your documents right before your eyes. To receive free quotes give us a call at (719) 425-2980 or fill out the form on the left.